Gear-obsessed editors choose every product we review. We may earn commission if you buy from a link. How we test gear.
The Best Portable Air Conditioners for Beating Summer Heat
Why mess with window A/C units when you don't have to?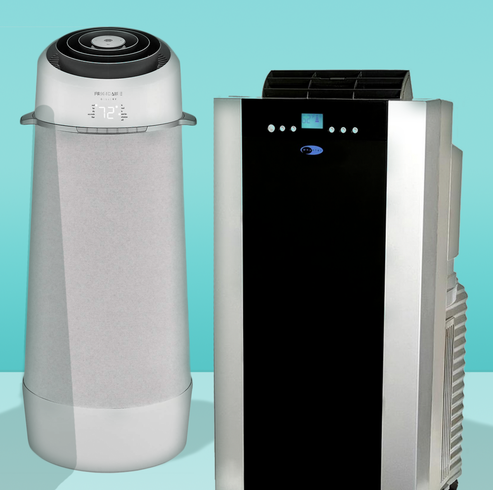 Summer is hot and sticky, but that doesn't mean your bedroom, home office, or den has to be. The solution to summer air is the portable air conditioner, a small appliance that uses an ice-cold metal coil and a fan to convert hot and humid air into dry, cool air. We should add, it also converts it into comfortable air. The appliance is remarkable in one other respect. It's portable. You can roll it around in the room where it's located or move it anywhere else where it will do some good.
How Portable AC Works
Think of a portable air conditioner as a cold-air pump. It takes air from the room that's hot, stale, and humid, and blows it over a cold metal coil that's filled with refrigerant. The air's temperature and humidity both drop as the air moves over the coil, and a fan blows the cooled and dried air into the room. The cold metal coil does double duty. First, it absorbs heat from the air; second, it transfers that heat to the refrigerant gas flowing inside the coil. Farther down the coil, the gas is squeezed into a small volume by a compressor. This concentrates the heat energy into a small space. Air is blown over the hot coil and the heat energy is discharged through a hose to the outdoors. Mission accomplished, a micro climate of comfort in the vicinity of the air conditioner.

Some portable air conditioners have one hose and some have two hoses. One-hose appliances take in air for cooling from the room and discharge heated air from the hot end of the coil to the outdoors. Two-hose models are slightly more complex and may be slightly more expensive than some single-hose models. One hose takes in outdoor air, cools and dehumidifies it, and sends that it into the room while discharging hot air off the hot end of the coil using the second hose. Two-hose models reduce the risk of discharging cooled air to the outside and are less likely to create a negative pressure in a tightly sealed living space. This occurs when any air-discharging appliance, whether a fan or an air conditioner, discharges air at a faster rate than the dwelling can take it back in.
How We Test
We placed the portable air conditioners in a room with tall windows that take in a strong afternoon sun. We then set the temperature on each air conditioner to 68 degrees and the fan speed to maximum, and aim the appliance at a target eight feet away. Then we measure the temperature at four locations on the target using an infrared thermometer and thermocouples. We also check the appliance's outlet temperature (it should be consistent and a lot hotter than what the air conditioner is putting into the room). We run the appliances on a hard surface that amplifies rattles and squeaks. To analyze the cooling value of tested and non-tested appliances, we divide its cooling BTU by its cost. A higher number is better in that indicates you get more cooling BTUs for your dollar. We tested the top five portable air conditioners in this review and listed three more at the end that we think are worth investigating based on their attractive features or because the appliance was reviewed by our colleague publication, Good Housekeeping, and its staff of engineers.
---
Most Powerful
LG LP1419IVSM DUAL Inverter Smart Portable Air Conditioner
LG's portable air conditioner was the most powerful of the six tested. We set the temperature and fan speed and before we could even return to our notes, it was blowing ice cold air. And the automatic movement of the discharge louvers ensured even temperature distribution at the target. It held its temperature almost as well as the Honeywell HL09CESWK. Given those features and the appliance's large BTU number, we think the LG portable unit is well suited for large apartments or office areas that might need extra cooling capacity due to digital equipment. In terms of maintenance, the LG is very good. Two grills cover its twin air filters, and neither requires tools for removal. The top grill is particularly well designed with an easy lift-off feature. It's also available at Wayfair.com, though it may be temporarily out of stock. Sign up to be notified when it's back.
Modes: Cool, fan only, dehumidify
Cord length: 54 inches
Hose, fully extended: 57 inches
Electrical /BTU: 12 amps, 14,000 BTU
Condensate removed: 10 tablespoons
Energy Efficient
LG LP0817WSR Portable Air Conditioner
This is a respectable portable AC unit that impressed us with its ability to quickly and quietly cool an area while drawing as little current as possible—no small benefit in any house, but particularly valuable in an old house with creaky wiring or when other electrical loads are running simultaneously on the same circuit. We liked the tool-free access to the washable air filter and the fact that the louvers shut tightly when the air conditioner is turned off (suppose your cat hops on it when it's not on). We didn't have the means to run this in a truly humid environment, but we appreciate two aspects of how the LG air conditioner handles condensate. First, it uses the condensate to cool the condenser. Although this re-evaporates the liquid, it does reduce what you have to empty. Second, if the condensate collection pan fills up (particularly when the appliance is used as a dehumidifier) then the LG will shut off automatically and its LED will display the E5 reading, alerting you to the need to empty the pan. It's also available at Wayfair.com, though it may be temporarily out of stock. Sign up to be notified when it's back.
Modes: Cool, fan only, dehumidify
Cord length: 54 inches
Hose, fully extended: 60 inches
Electrical /BTU: 7.7 amps, 8,000 BTU
Condensate removed: Negligible (less than a tablespoon)
Most Accurate
Honeywell HL09CESWK Contempo Series Portable Air Conditioner
The Honeywell portable air conditioner is a robustly built and pleasant-sounding appliance. Its amperage and BTU rating puts it in firmly in the mid-power range for these portable air conditioners. It should more than hold its own in the average apartment. All of the portable air conditioners produced an accurate and stable temperature during our tests, but the Honeywell was exceptional, holding the target temperature within one degree or less. As far as maintenance goes, access to all its air filters is very good. The top filter grill has tool-free access. The lower grill is held with a single pan head sheet metal screw, not an exotic Euro fastener of some kind. If you lose that screw, a trip to the hardware store solves the problem.
Modes: Cool, fan only, dehumidify, heat pump/heat
Cord length: 73 inches
Hose, fully extended: 59 inches
Electrical /BTU: 8 amps, 9,000 BTU
Condensate removed: 10 tablespoons
Most Compact
Black & Decker BPACT14H Portable Air Conditioner with Heat
Black & Decker
amazon.com
$475.00
The Black & Decker portable air conditioner is best suited to small-room cooling, perhaps even supplementing a central-air system in a tall condominium or townhouse that has an uncomfortably warm upstairs room. We liked the Black & Decker's air distribution. You manually set the output louver vertical direction to adjust the appliance's throw (HVAC lingo for how far the air conditioner throws the air), but behind those louvers is an oscillating louver that moves automatically left to right. The result is smooth, clean, cold air softly delivered over a broad area.
The portable AC's maintenance looks pretty easy to us. The owner's manual says that you'll need to drain condensate only under extreme conditions. We found no condensate in our test; we're left to conclude that was an accurate statement. Grill removal was not as simple as the other portable air conditioners, but it's still pretty good. The top grill is removed tool-free; the side grill is held by two thread-forming screws for plastic. The third filter slides out. Three filters, two screws. That's a pretty good score in our book.

Modes: Cool, fan only, dehumidify, heat pump/heat
Cord length: 70 inches
Hose, fully extended: 57 inches
Electrical /BTU: 10.8 amps, 10,000 BTU
Condensate removed: Produced no measurable condensate
Fast Cooling
Honeywell MN12CEDBB Portable Air Conditioner with Remote
Honeywell
wayfair.com
$639.99
The Honeywell is a powerful, fast-cooling appliance, as its amperage and BTU numbers suggest. We see this portable air conditioner as a good fit for rooms that are particularly hot and stuffy and for a house or apartment located in an extremely dusty environment such as busy urban area or a rural one with lots of trees and a variety of pollen blowing around. We say this because it was the only portable air conditioner in the test with a large, slide-out air filter. There's no grill to remove. Grip the air filter's top handle and lift it out. This feature promotes easy and frequent cleaning—keeping your indoor air cleaner in the process. The Honeywell portable AC unit is also a substantial appliance in the sense that it has four-season capability, since it heats and cools. Or simply run it on the dehumidifier setting on a rainy day.
More evidence of the air conditioner's substance is found in the fittings that connect its discharge and intake hoses to its back. These large collars ensure a firm, airtight fit. Finally, this is a two-hose appliance. It cools, filters, and dehumidifies outdoor air in one hose and discharges stale, humid air to the outdoors through the second hose. In theory, this should prevent the air conditioner from drawing a negative pressure on the cooled, conditioned indoor space. Can this help? Put it this way, it couldn't hurt.
Modes: Cool, fan only, dehumidify, heat pump/heat
Cord length: 72 inches
Hose, fully extended: 45 inches
Electrical /BTU: 9.5 amps, 12,000 BTU
Condensate removed: Negligible (less than a tablespoon)
More Great Options to Consider
We recommend the following options based on our deep experience reviewing air conditioners, research into the market, testing similar models, and a survey of consumer reviews. Although we haven't tested their performance, they have compelling price, design, or features that may meet your needs.
Whynter Elite ARC-122DS Dual Hose Portable Air Conditioner
Whynter
amazon.com
$600.00
$414.00 (31% off)
This air conditioner was named best overall portable air conditioner by the Good Housekeeping Institute. And it is one of several appliances we observed that have a dual-hose design. One hose intakes outdoor air and then filters, cools, and dehumidifies it before blowing it into the room. With the other hose, the portable air ejects indoor air to the outdoors. The design prevents the appliance from creating a negative pressure in the cooled space, which can pull in warm, humid air from building cavities, the attic, the crawlspace, and other undesirable locations. We also like that the AC unit creates very little condensate, so you won't have to change the collection tank as often.
Modes: Cool, Fan only, dehumidify
Hose, fully extended: 60 inches
Electrical/BTU: 9 amps, 12,000 BTU
Frigidaire FGPC1244T1 Smart Cylinder Portable Air Conditioner
Two design attributes of the Frigidaire make it attractive: powerful high-BTU cooling capacity and a cylinder shape that is unlike any portable air conditioner we've reviewed. And if you like tech, you'll dig the Frigidaire app that lets you run this appliance remotely. The on-machine controls are simple and intuitive: A large panel on the front with a row of buttons below helps you set modes and fan speed. And a cleanly designed pancake-shaped remote control nests into the appliance's top. By pancake shape, we mean something like the iconic Honeywell wall thermostat: round and simple. Finally, Frigidaire makes it easy to get service or parts should the air conditioner break or wear out.
Modes: Cool, fan only, dehumidify
Hose, fully extended: 59 inches
Electrical/BTU: amps not available, 12,000 BTU

Whynter ARC-14S Dual Hose Portable Air Conditioner
Another Good Housekeeping top pick, the Whynter's amperage and BTU capacity position it firmly in the heavy-duty cooling category (and the heavy category; this portable air conditioner weighs 80 pounds). It's a dual-hose (intake and exhaust) which, theoretically, should reduce the amount of condensate that the AC unit collects, since it's supposed to be removed in the exhaust air stream. A similar model (ARC-14SH) also operates in heat pump/heater mode. For a slightly smaller model, check out the Whynter just above.
Modes: Cool, fan only, dehumidify
Hose, fully extended: Not noted
Electrical/BTU: 10.8 amps, 14,000 BTU

This content is created and maintained by a third party, and imported onto this page to help users provide their email addresses. You may be able to find more information about this and similar content at piano.io