Gear-obsessed editors choose every product we review. We may earn commission if you buy from a link. How we test gear.
The Best Wood Clamps for Any Size DIY Project
Clamps like these allow you to keep your wood pieces securely in place for glue-ups, brad nailing, or pilot holes. They're also specifically designed to prevent unsightly dents or blemishes.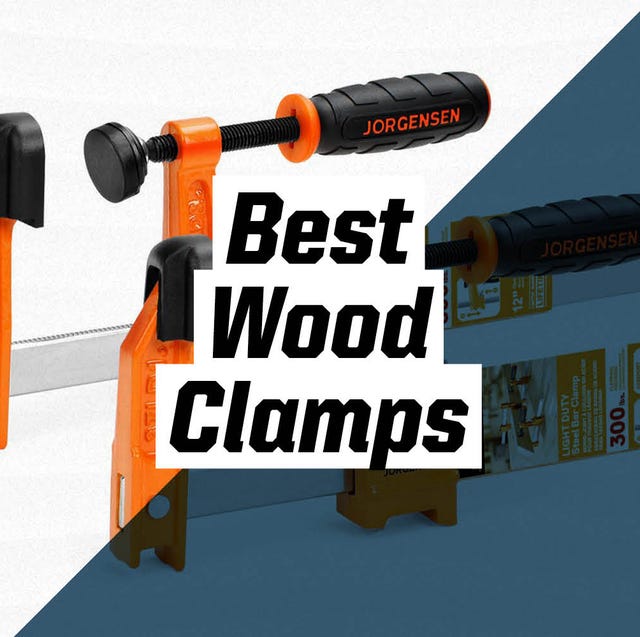 Staff, Courtesy of Jorgensen
Reliable wood clamps are a must for any tool collection, and make nearly all woodworking projects significantly easier than if you had to hold everything in place by hand. Whether you're assembling smaller items like drawers and cabinets, or larger pieces like doors and tables, clamps allow you to precisely position all your wood pieces exactly how you want them, ensuring that they won't shift while you glue, nail, or screw them in place. Their simple operation and impressive strength also allow a single person to handle large projects alone. With enough clamps, you'll be surprised at the kinds of projects you'll be able to tackle.
What to Consider
Wood clamps are not one-size-fits-all. Compact spring clamps will usually suffice for smaller jobs that simply need to connect two parallel pieces, while larger bar clamps are better suited for wider jobs like cabinetry or drawer construction. Pipe clamps are going to be for your extra-large projects, since their width is only limited to the length of the bar you decide to use. This makes them perfect for oversized tables and doors. Most clamps will clearly state their jaw width, so it shouldn't be hard for you to make sure they'll fit your workpiece.
Another factor to consider is the type of material you're going to be using your clamps on. If you're dealing with finished or delicate wood pieces, you'll want to make sure you're using a clamp with sufficient padding, so as not to mar or dent the wood. Larger spring clamps are also more likely to cause dents in soft wood, since their pressure is focused on a relatively small area, so keep that in mind. It's worth noting that you can also add your own padding to clamps, like wood shims or scraps, although it can be inconvenient and sometimes difficult to ensure nothing is slipping out of place.
How We Selected
I've utilized all varieties of clamps in my career as a furniture carpenter, and used this experience to assemble the list below. I know the importance of quality construction and comfortable operation, especially with larger bar clamps, and kept those factors in mind while choosing. I also made sure to exclude any brands or models that I feel aren't up to par with Popular Mechanics' standards, and only included those that I know to be of high quality, which is why there are so many Irwin options, a brand that I have always had great experience with.
This content is created and maintained by a third party, and imported onto this page to help users provide their email addresses. You may be able to find more information about this and similar content at piano.io