Gear-obsessed editors choose every product we review. We may earn commission if you buy from a link. How we test gear.
10 of the Best PS4 Games of All Time
These amazing titles for Sony's best-selling gaming console are often available for a bargain.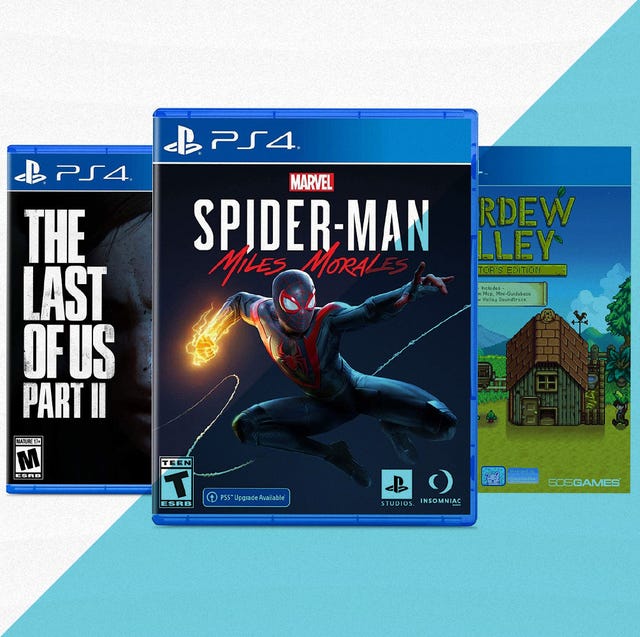 Staff, Courtesy of Naughty Dog, Insomniac Game, ConcernedApes
About the Expert: Alex McCumbers has played just about every major PS4 release since the console launched in 2013. His website, ForeverClassicGames.com, is a celebration of games from all eras across all systems, including PlayStation, Xbox, Steam, and Nintendo Switch. He's also been published on gaming sites such as Giga Geek Magazine, Marooners' Rock, and Twin Galaxies, and someday he hopes to write a game narrative of his own.
One of the most popular video game consoles of all time, Sony's PlayStation 4, has an impressive library full of all-time classics, niche hits, and excellent remakes. The PS4 is also a solid way to enjoy Blu-ray films and streaming services, so it makes for an effective living-room entertainment platform, as well. What's more, PS4 games generally work on PlayStation 5 systems (PS5 launched in November 2020), and even feature improved visuals and performance, so picking up these games is still worth it for those planning to upgrade.
Game On: Best Anime Games • Best PS5 Games • 2021 Game and Toy Awards: Video Games
Sony did announce that after the release of Horizon Forbidden West, upgrades to the PS5 version of Sony-published games will cost $10, though many indies will still likely offer free upgrades. All things considered, though, the PS4 still holds up extremely well when compared to other consoles on the market, and there are often great deals to be found.
Below, you'll find some of the best PS4 games ever. We've considered the merit of each game's individual offerings as well as value for the player and replayability. That said, there is a staggering number of games that fall into specific genres for just about any type of gamer. This system has the most variety on the market outside of, maybe, Steam, but the main benefit of going with a console over a PC is less time tinkering with settings and more time gaming. Some of the best experiences are for mature audiences, but there is also a huge list of games that are family-friendly or great introductions for inexperienced players.
How We Selected
Usually, I pick up a PlayStation with the sole intent to play the latest Final Fantasy game, but I quickly discovered a world of franchises and blockbuster releases that will always have a place on my shelf. There are so many games to recommend that narrowing down this list was a challenge, but I am confident that these 10 titles and the franchises they represent are some of the best PlayStation 4 has to offer. Even now, as a PS5 owner, I am still happily poring through the PS4 library.
This content is created and maintained by a third party, and imported onto this page to help users provide their email addresses. You may be able to find more information about this and similar content at piano.io