Gear-obsessed editors choose every product we review. We may earn commission if you buy from a link. How we test gear.
The 10 Best Sensory Toys for Exploring Sights, Sounds and Textures
Stimulate all your kids' senses with these toys.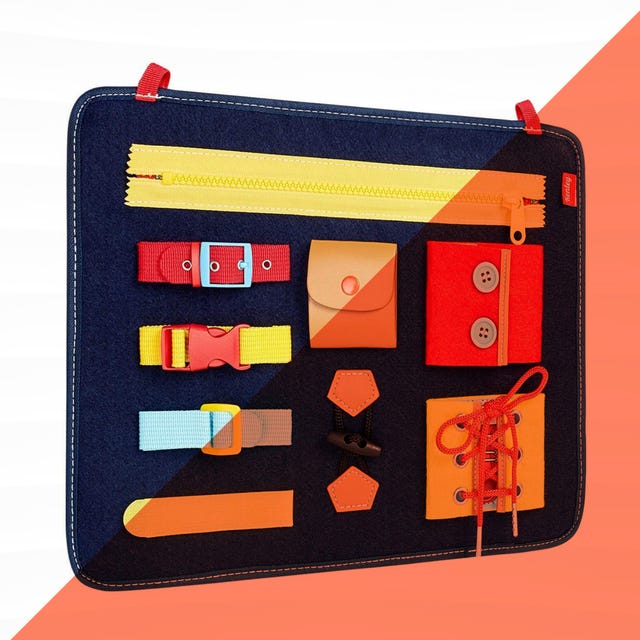 Staff, Courtesy of Kenley
Sensory exploration is a big part of teaching children about the world: what it offers, how to navigate it safely, and how to appreciate its vast beauty. Sensory toys offer different smells, sights, textures, temperatures, weights, and sounds, stimulating the tactile system in the process. There are benefits to all of these types of toys, for all children. For kids struggling with sensory processing or integration, they are especially essential. We gathered an array of toys to activate senses, regulate emotions, and boost engagement and interaction.
What to Consider
The options for sensory toys seem almost endless, so it's easy to feel overwhelmed with the choices. Keep the following in mind, and you'll be on your way to finding a good fit for your kids.
Age: Babies have very different needs than toddlers and big kids. There are sensory toys that are suitable for each age.
Which sense? Some children need to stimulate their auditory senses, while others need to focus more on visual or textural cues. We include an array of options below.
Emotional and physical? While all of these toys are educational and fun, so do a better job at regulating an anxious or restless child's emotions, so keep that in mind.
How We Selected
We reviewed hundreds of products, and looked at reviews from experts such as occupational therapists. We also read thousands of comments from teachers and parents who shared their insight and feedback. From there, we put together this list featuring the highest rated and most loved sensory boosting toys.
1
Anxiety-Relief Fidget
hand2mind ColorMix Sensory Fidget Tubes
hand2mind
amazon.com
$32.99
Key Specs
This toy is perfect for overstimulated kids who need to calm down. These hands-on toys help children deal with big emotions, including anxiety.
It's also a good resource for parents who want to calm their kids down on the go; the tubes are highly transportable, allowing kids to slow their heart rates and respirations by focusing on the glittering, colorful liquid.
One reviewer says they love these tubes for their son, who has autism, saying it's a "reward toy when he's working."
2
Soothing Teether
John Deere Massaging Corn Teether
The First Years
amazon.com
$11.49
Key Specs
This interactive massaging teether teaches babies cause and effect, and helps soothe sore gums with gentle vibrations. (This teether is also made from BPA-free plastic.)
It's also useful for babies who love oral stimulation; when they bite down on the corn cob, they are rewarded with the vibrations.
One reviewer notes, "it is a fairly rigid plastic, not gummy at all. I didn't think my baby could handle it, but she took it right away and loves it!"
Another writes that they love the teether for their 5-year-old son with "sensory challenges that come with a fair bit of chewing on things to try and calm himself."
3
Best for Fine Motor Skills
Li'l Gen Water Beads
Li'l-Gen
amazon.com
$15.99
Key Specs
Water beads offer a lot more than they appear to offer. Younger children will love to mix and match the 8 ounces of water beads, which feature all of the colors of the rainbow. The beads also come with two scoopers and two tweezers that help boost hand-eye coordination and fine motor skills.
The soft beads—and their slippery texture—will provide comfort and relaxation to kids as they let them slip through their fingers and feel their light weight.
These beads are especially useful for toddlers and preschoolers and all children with sensory challenges. These beads are nontoxic and BPA free.
4
Best Subtle Sounds
Indigena Cactus Rainstick
Arte Indigena
amazon.com
$12.17
Key Specs
Auditory activations are an important part of every child's development, but caregivers who don't love the side effects (a lot of noise!) will gravitate to this Rainstick.
Rotating and shaking this stick activates beads that create gentle tones that mimic the sound of falling rain, a calming and soothing sound for all. The texture and weight of the stick will appeal to children, as will the colorful yarn decoration.
5
Best Sensory Play Table
ECR4Kids Activity Play Table
ECR4Kids
amazon.com
$159.99
Key Specs
This play table set is suitable for outdoor and indoor use. It can be adjusted to three different heights (20, 22.5, and 26 inches), making it the right height for toddlers 3 and up.
The station features four different removable blue and red basins that can be easily cleaned and drained; each basin can feature different water, sand, and toy activities.
Play stations like this give children soothing tactile stimulation, while boosting fine motor skills and allowing them to order their play.
One reviewer says her 5-year-old daughter "LOVES it," while others praise its durability. Another notes that it's great for children "with low tone who need a little help standing to play."
6
Safe Swinging
OUTREE Kids Pod Swing Chair
Key Specs
This swing seat was created especially for kids. (The maximum weight recommendation is 100 pounds).
The colorful hammock provides a sense of comfort and security and can help kids regulate their sensory input when overwhelmed. The material is cotton-canvas, which makes it warm but also breathable; it features nylon edgings and double stitching for extra safety.
This swing also helps kids develop muscles as they swing and relax, especially those struggling to build core strength.
One reviewer says it's "the best money ever spent! I recommend this to everyone, especially autism parents!"
7
Feel & Sound for Babies
Sassy Do-Re-Mi Musical Toy
Key Specs
This sound-based toy offers babies and toddlers control through buttons that can help them understand how sensations can work together, boosting their ability to self-regulate. The bright colors, textural variety and different sounds will enhance brain activity. Babies will also want to mouth this toy, which can help with teething.
Reviewers say their kids "love" it, but warn that the lack of an on-off button for the sound setting can be challenging. Others praise its durability, saying they "never leave the house without it!"
8
Busy Board for Fine Motor Skills
Toddler Busy Board
Key Specs
This busy board has an array of tasks your toddler can practice, from using a zipper, button, snaps and different types of buckles, plus more. The soft felt wool board measures 11 by 12.5 inches, making it a go-to for a travel toy.
This toy enhances your child's fine motor skills, while also teaching them essential life skills; the different levels of difficulty among the nine tasks will keep kids busy.
Reviewers praise the toys' usefulness and practicality, but say it also encourages "problem-solving skills." Others say it is "durable and just great quality overall."
9
Create and Fidget
Arts and Crafts Activity Set
WikkiStix
amazon.com
$15.55
Key Specs
This set of 84 Wikki Stix comes in 16 colors with a multiuse playboard, storage bag, eight-page booklet of ideas and illustrations, and more.
It can help hone imagination and creative visualization skills, while also providing an interesting texture and outlet for restless fingers. The set encourages independent, focused play, and helps kids hone their concentration and problem-solving skills.
Reviewers say it keeps their kids busy on the road, and love the "no mess, low-maintenance" of the set.

10
Wearable Jingle Bells
POPLAY Band Wrist Bells
Key Specs
Each of the 12 bands in this set are comprised of a nylon wrist band and set of four metal bells. The straps are adjustable and will fit adults and kids. These bands can also be wrapped around ankles, attached to hats, looped through buttonholes, and more.
Kids will love how their movement controls the volume and speed of the sound, and it will help younger ones learn cause and effect.
Reviewers say the bands are fun, especially around the holidays, with many noting that they were surprised by the "actually very good" quality, considering the low price.
This content is created and maintained by a third party, and imported onto this page to help users provide their email addresses. You may be able to find more information about this and similar content at piano.io