Gear-obsessed editors choose every product we review. We may earn commission if you buy from a link. How we test gear.
8 Best Stainless-Steel Cookware Sets
Upgrade your kitchen with this timeless classic.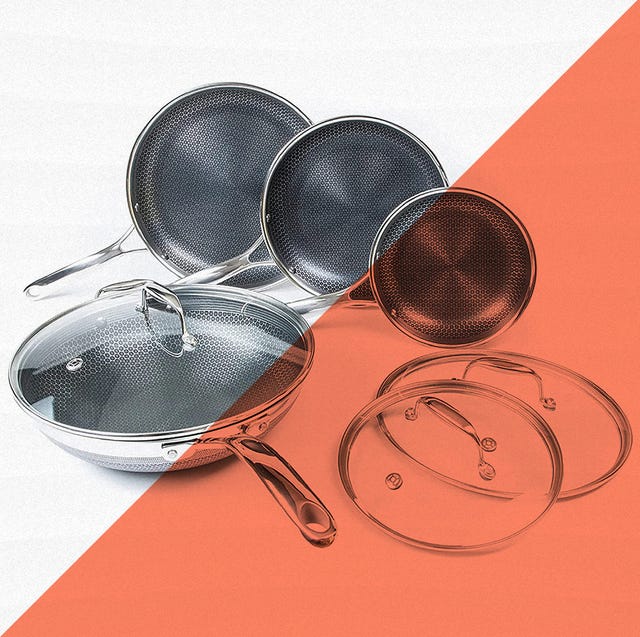 Staff, Courtesy of HexClad
About the Expert: Lizzy Briskin is a trained chef, recipe developer, and food writer for Insider, Munchery, and Simply Recipes. Though she appreciates the advantages different cookware materials offer for specific tasks, her go-to for everyday cooking is always stainless steel—for its reliability, durability, and how easy it is to clean.
While there are several popular cookware materials, from ceramic-coated nonstick to heavy-duty cast iron, stainless steel is a tried-and-true favorite. These gleaming pots and pans are built to last for generations. They're easy to clean (many are dishwasher-safe), and they resist dings, scratches, and dents.
Cooks love stainless-steel pots and pans because the surface heats evenly and maintains that heat well—no more burning your food on an unexpected hot spot. A high-quality, stainless-steel pot can also go from the stovetop into the oven and can be used with induction stoves, which generate heat through electrical induction that requires a magnetic connection. Keep in mind that certain materials, like copper, aluminum, and glass, will not work on an induction cooktop unless they have a stainless-steel core. So, if you're on the stainless-steel-cookware train and are looking for a complete set—or just a few pieces—to upgrade your kitchen, here's what you need to know before you buy.
What to Consider
Which Pieces Do You Need?
Before you go all-in and invest in a complete set of stainless-steel cookware, take inventory of what you already own. If you're very particular about the size, shape, and other features of your cookware, or you need a few pieces to supplement your existing collection, you can buy individual pieces or even a smaller, less-expensive set. But if you're starting over, stocking a new kitchen, or finally ready to treat yourself to all things matching, you may want to invest in a complete set that meets all of your culinary needs. Stainless-steel cookware sets range in size from a few pots and pans with lids to a fully equipped 27-piece set that includes utensils.
Cookware collections vary not only in how many pieces they include but also in the size and type of each piece included. Take a close look at the pan sizes that come in a set. If you already have a great Dutch oven or go-to wok, you may want a set that includes only stock pots and saucepans. If you're looking for a set of skillets that's easy to store and can be used to make quick stir-fries and scrambled eggs, there are sets for that, too.
But...Every Kitchen Should Have These Three Pieces
The three key stainless-steel cookware pieces every cook should have are: a great go-to skillet, a stockpot, and a medium-sized saucepan. The skillet is great for stir-fries, searing meat, and frying eggs. As a bonus, opt for an oven-safe skillet. You'll need the stockpot for soups, pasta, and blanching veggies. And the saucepan comes in handy for smaller tasks like stove-top oatmeal, sauces, hard-boiling eggs, and other everyday tasks.
Choose Your Shape
The shape of your cookware comes down to personal preference. Higher-sided pots and pans can help prevent splashes and spills, but they tend to have a narrower opening for stirring. Flared sides make it easier to pour liquids from your pots and pans. For safer cooking, look for a set with flat rather than rounded bottoms, which helps conduct heat more evenly.
Glass or Stainless Lids?
Most cookware sets have lids, but not all lids are the same. You'll find sets with stainless steel lids and others with see-through glass lids. Some cooks prefer the better heat retention provided by stainless. But the benefit of a glass lid is that you can see what's going on inside your pot while you cook.
The most useful lid may be on the Dutch oven or rondeau. These pots are suited for the oven and are the best for braising meat. If the pot lid doesn't fit tightly, you risk losing your braising liquid to evaporation in the oven. So if you're going to get one pot with a matching lid, let it be your oven-safe braising dish. A tight-fitting lid will sit inside the lip of the pot, not on top. When you jiggle the handle, the lid shouldn't move around much. There should also be no vents or holes on the sides or on the top to let out steam.
Core and Ply: What do They Mean?
Core, as it relates to cookware, refers to a pot's innermost material. For example, some stainless steel cookware has a copper core, which is great at conducting heat but not induction-compatible—it's also more expensive than stainless. So, by layering the copper with stainless steel, you get the best of both: a pot that retains heat well and works on every kind of stovetop and that won't break the bank.
Ply refers to the number of layers of metal in a pot or pan. Most cookware comes in 3- or 5-ply with layers of stainless steel, copper, and aluminum. Pots that are 5-ply tend to be thicker, heavier, and more durable. They also heat more slowly, which can be a good thing because you're less likely to burn food if you turn the heat on too high with a cold pot. Thicker stainless steel also retains heat longer. Three-ply cookware tends to be lighter and less expensive. Many cooks prefer 3-ply pots and pans because they heat more efficiently and cool down faster for safe cleanup.
In addition, some cookware is finished with a nonstick coating. Stainless steel on its own is not nonstick, so many manufacturers will add a layer of ceramic coating that food does not adhere to. It's safe to assume that a cookware set is not nonstick unless it's advertised as such.
Value vs. Price
Cookware sets come in a range of prices, and a larger set isn't always necessarily more expensive. The other factors that affect the price of a set include the materials (a 5-ply pot with a copper core is likely to cost more than a 3-ply pot with an aluminum core), design features, and functionality, such as being oven- or dishwasher-safe. In addition, some brand names also come with a price tag.

How We Evaluated
As a professional chef, I value cookware that's not only built to last but also has well-thought-out features, such as tight-fitting lids, stay-cool handles, and no-mess pouring spouts. I am also aware that not everyone needs professional-quality cookware, so while I don't recommend low-quality, cheaply made products, I do take price into consideration to make sure you're getting the best value for your budget–every kitchen should have at least a large stockpot, several saucepans, and skillets in various sizes. My recommendations are based on my experience using stainless-steel cookware as well as online reviews to make sure the pots and pans hold up well to regular use.
This content is created and maintained by a third party, and imported onto this page to help users provide their email addresses. You may be able to find more information about this and similar content at piano.io